The Makings of an Artist - The Journey to Floriography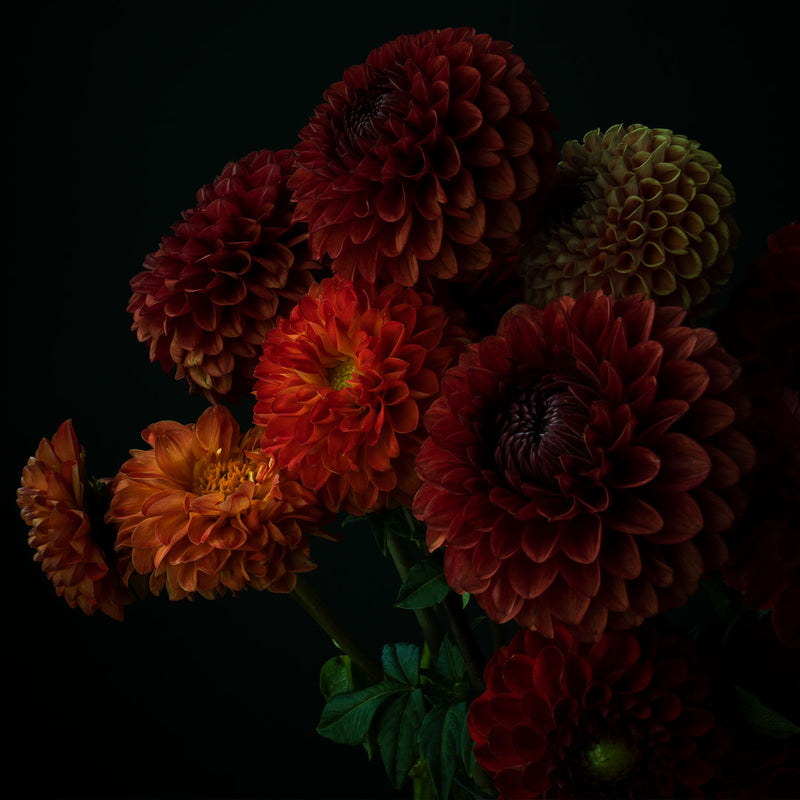 Behind each art piece is a story. From the first pickings of the blossoms to the last adjustment of light, then to the packaging and shipping of your fine art photograph, my hands are woven into every aspect. 
I want to bring you along the journey. Let us begin this adventure into the curation of a fine art photograph!

Set up
When I set up the flowers to shoot, I am listening to their story. Cosmos and the way they grow together, tulips and their joyous romance, the way their petals drip open like honey. Slow, steady, and forever inviting one to become mesmerized by their beauty. 
"Each photograph taken meant to transform the home. Adding moments of joy and introspection. Curating images that will invite you to relax, to melt into your space, and feel connected to all the beauty that exists around you. Creations that become a sensory experience, engaging you to be reminded of all that makes you feel irrevocably alive." 
In order to make this journey possible, there is much that occurs behind the scenes. Before the photo is a fine art piece, it is on a set, being made into the stills you see on my social media and website. 
From the lighting to the styling, website design, and packaging,
"I touch every aspect of this business. Each process is laced in love and a potent thoughtfulness." 
As the art is curated, sold, and packaged, I myself am constantly navigating deep forms of gratitude and transformation. 

Each collection comes with its own lessons. The flowers lending their wisdom from learning to love myself more, to being more free with my expression. The ability to let go, and the courage to speak my truth. Each blossom brings with it, a sequence of learning. 

The Story
From the moment you make your first purchase, the journey begins.

"The prints themselves are only offered in small quantities and once that print in that size is sold out, it will not be reproduced again." 
I love this process of creating art. Getting to know my subjects and offering not just a piece of art, but a story to you. These moments in time cannot be reproduced, and when a piece calls to you, I believe it is choosing you as much as you are choosing it. 

When I imagine a scene I think about the way color will affect a room, I connect with the flowers themselves and try to tell their story as best I can. Sunflowers speak of warmth and shadow. They exude sunshine and an enduring strength.
Lilacs are more fluttery, whispy delights. Holding moments of captivating romance. What fabrics and backdrops will serve each flower in the most supportive way? Allowing their beauty and lessons to shine.
"Intention and time is what makes fine art photography so spectacular. It's a moment created to make you feel. An invitation to view the piece of art with all of your senses engaged and ready to explore an alternate landscape." 
The story continues through the ways we present it. From paper to packaging, we haven't finished yet even when we have the perfect shot.

A More Gentle World
Working with nature, I have the opportunity to truly appreciate that each choice I make impacts the world around me. Packaging is something that is needed to ship fine art. It was imperative to find the most sustainable ways to do so. To respect the flowers that helped create my soul's art, by protecting the Earth on which they grow. 
"I believe the flowers I photograph are deserving of the finest when it comes to creating a tangible keepsake of their form - which includes the exquisite presentation of your purchase. From the dust bag procured from Italy, to the handmade gusset envelopes, plant dyed silk ribbons and traditional wax seals, I truly want every facet of receiving your art to be an experience you will remember." 
Beauty, is both fierce and gentle. I have spent countless weeks finding materials that are not only luxurious but easy on the earth. Recycled materials and ethical in their creation, the energy around all of my packaging is meant to be woven from love.

The Fine Print
Last year, I spent eight months researching paper and printers. It was an intensive process that I dedicated myself to. During this time I formed a beautiful relationship with the owners of the printing house I chose to work with. The paper we use to showcase our art can make all the difference in the world.

I landed on two types of paper that truly enhanced my art like never before.

First the french made Canson Paper. Over the centuries, the greatest artists and designers have used the Canson® papers: Delacroix, Van Gogh, Degas, Matisse, Picasso, Dali, Warhol, Jean-Michel Alberola, Toguo, Philippe Starck, Yan Pei-Ming.

"Canson has designed a truly white paper with no brighteners which is just incredible. When using paper like this you are able to see more of a three-dimensional appearance and awe-inspiring pictorial depth. The colors are more brilliant and really capture the striking contracts that fine art photography captures." 

The other dreamy paper I have found is from Hahnemühle papers based in Germany. Hahnemühle makes unique papers for exquisite works of art. They have been producing paper in their traditional ways since 1584! Utilizing the Fourdrinier and cylinder mould machines is an incredible way in which they keep tradition and modern needs balanced.

When I photograph I dive into the world of shadow. I live for the play between shadow and light and creating mood in this way. It is imperative for me to utilize papers that are able to capture the light and shadow of my floral work--to fully showcase the rich contrast and vibrant colors. The variety of papers that both Canson and Hahnemühle offer allow me to curate exactly what I am dreaming of.

Some prints beg to be powerful, bold, and ripe with feeling. Others speak of serenity. It is another level of creation when choosing the paper that will communicate the art in the most eloquent way. The steps in creating a photograph, I cannot help but smile at this process I adore with all my heart.
My Why
Expression. Beauty. Creation. Connection. There are so many reasons that art speaks to my soul and why I have been called to share it with all of you. More than anything I lean into photography to explore the world around me. To grow, transform and become the best possible version of myself all while transmuting physical beauty into pieces that can be treasured for years to come.

Wielding a camera feels a lot like holding a magic wand. This special tool that can stop a moment in time and capture it forever. It is a surreal artform to be part of and one that I hold the most immense gratitude for.

I loved taking you along this journey with me, my hope is getting to peek behind all the intimate details of this work that you will be excited about the artwork you decide to add to your home.
I am always here for questions and discussion. Reach out anytime. Thank you for being here.

With love,