Why we should decorate our living spaces with Flower Art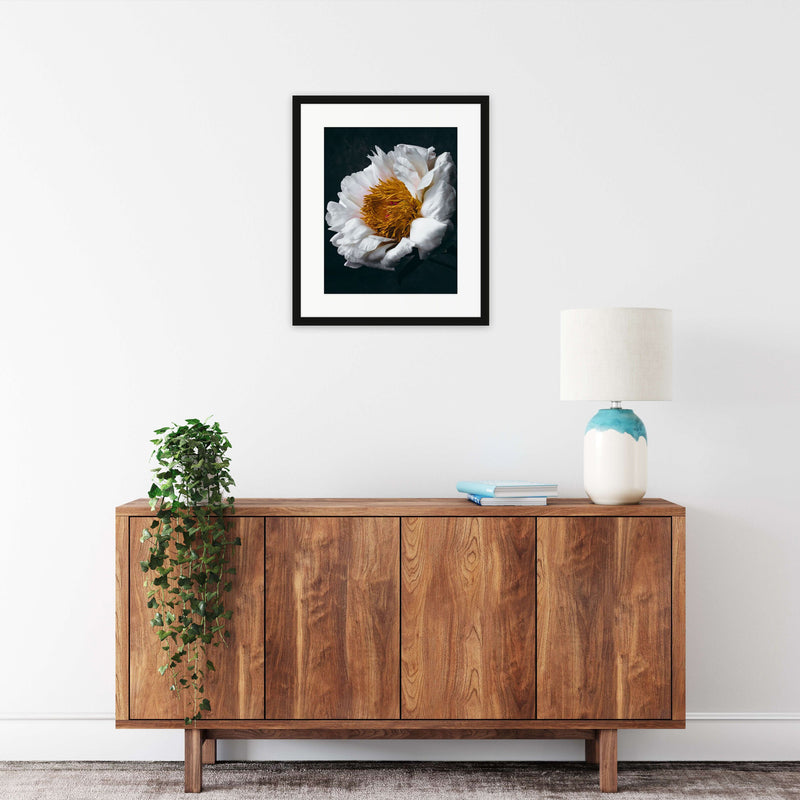 Tangible transformation of living spaces
On its surface, art can be used quite literally to transform a space. Visually it has the capacity to add color or decoration to an interior and when thoughtfully curated, it can improve the overall ambience of a room or even start a conversation. From adding inviting warmth to a neutral hallway or creating a relaxing atmosphere in a bedroom, the artwork we display on our walls is a key element of interior design and the overall aesthetic of the spaces we occupy. 

Art humanizes the home
Whether we realize it or not, however, the art we choose to exhibit offers so much more than its surface value of visual appreciation. 
Art humanizes the home, bringing life into spaces that seem to be increasingly occupied with technology and automation. An intentionally handcrafted piece of art is a beautiful reminder of human skill — and if we're lucky enough to be familiar with the story behind its creation, our connection to its meaning deepens further still. 
Yet even when we're unaware of the narrative of its origins, the art we're drawn to tells a story of its own about who we are as individuals. From prints of renowned impressionist works to delicate pencil sketches of human forms, our taste in art can tell an audience so much about our character and even what we value in life. 
Beyond revitalizing our homes and telling tales of who we are, art has a profound effect on us emotionally. A canvas of bright sunshine hues, for example, may elicit feelings of happiness or evoke memories of summer, while shades of green might inspire a connection to the earth and instill a sense of creativity.
Flower art dissolves stress
Settling on a suitable subject for the art that will adorn your walls is a decision that very much depends on your personal taste and style. From abstract compositions that invite thoughtful musings to still life paintings or photographs that can be appreciated for every intricate detail, the options are virtually limitless.

A perfect theme to explore when it comes to interior decorating is the variance and beauty of nature's floral world. But why flowers? It's a well known fact that fresh blooms can immediately elevate our mood, not to mention how they somehow seem to dissolve stress. The very same can be said for art that illustrates flowers. If you've ever had the pleasure of experiencing a spa treatment, you may recall that the artwork on the walls is nearly always floral. Imagine having a permanent place of relaxation and wellbeing in your own home as a result of the art you choose to display? 
A pop of color or texture to a living space, floral art helps to set the overall tone and mood within a room instantaneously. In addition, flowers have long been associated with human emotions and feelings, as such, some blooms themselves can subconsciously affect our mood. The language of flowers has been recognized for centuries in numerous countries and still today, specific varieties resonate with us in different ways. Hyacinths, for example, are said to be a playful gift from the garden, while fall's favorite — the beloved dahlia, is thought to represent change and inner strength. Beyond the structure of the flower itself, the color of each bloom also impacts our emotions. Blue calls to mind feelings of serenity while red is thought to energize or instill passion.
Decorating your space for ambient and emotional enhancement
A focal point that elevates and enhances, floral art in the home often invites conversation and thoughtful contemplation. The way art makes each person feel is deeply personal, as such, a dinner table dialogue set against the backdrop of one of my limited edition floral prints may bring about interesting discussion regarding how everyone else relates to the piece. Beyond providing entertainment for guests, perhaps your choice in artwork inspires creativity in your everyday existence or simply lifts your spirits. 
No matter why you choose to decorate your living space with flowers, adding floral artwork to your surroundings can not only enhance the ambience of your personal space, but in turn alter your outlook. Allow me to share how some of my own art prints can change your home for the better both visually and emotionally.
Delicate in form and color, the soft texture and palette of these pink peonies invites gentle, feminine hues to a space. The contrasting backdrop adds drama and depth, drawing the viewers eyes to appreciate the intricacy of every perfect blossom. A symbol of love and compassion — as well as being known to delight romantic relationships, the peony is a favorite spring flower among women for good reason. This floral art print would be the perfect addition to a master bedroom, adding both softness and feminine energy to a sacred space.

Sunkissed
Bold yet beautiful, the warm glow of this standout sunflower evokes memories of summer days and simple pleasures. Its rich, black setting further promotes this print as a statement piece, capturing the attention of the audience and almost following its viewer around the room. Thought to represent happiness, the sunflower is a strong and sturdy bloom long associated with the height of summertime. This floral art print would make a bold display for any interior, instilling thoughts of carefree joy as well as vitality and energy.

Dahlia IX
A true autumnal treasure, the transitional feelings associated with the fading of the season can be experienced in this detailed portrait of a dahlia. The close up view of her soon to diminish golden petals remind onlookers that moments of beauty can be fleeting, and while her glory may be short lived, there is comfort in knowing that nature is cyclical. Quite literally representing change itself, this dahlia art print subconsciously encourages us to embrace the currents of life. 
External beauty promotes internal wellness
Whether we're acutely aware of it or not, floral art adds beauty and balance to our external surroundings in addition to our internal wellbeing. Transforming the space where we live and work is an easy yet effective way to improve not only the visual quality of our environment, but the emotional quality too. 

From contemporary mood lifting flowers filled with radiance and warmth, to more traditional still life floral forms that feel historic and classic, there are numerous art prints that stimulate palpable interest and promote specific feelings via the Elena Dragoi print shop. All of my art pieces are available in limited quantities, making them a wonderfully unique way to decorate your personal space with flowers. Looking for something in particular to add to your own interior? Please don't hesitate to contact me if you'd like some assistance in choosing an art print that works in your personal space!
with love,