Art Prints to Conjure up Springtime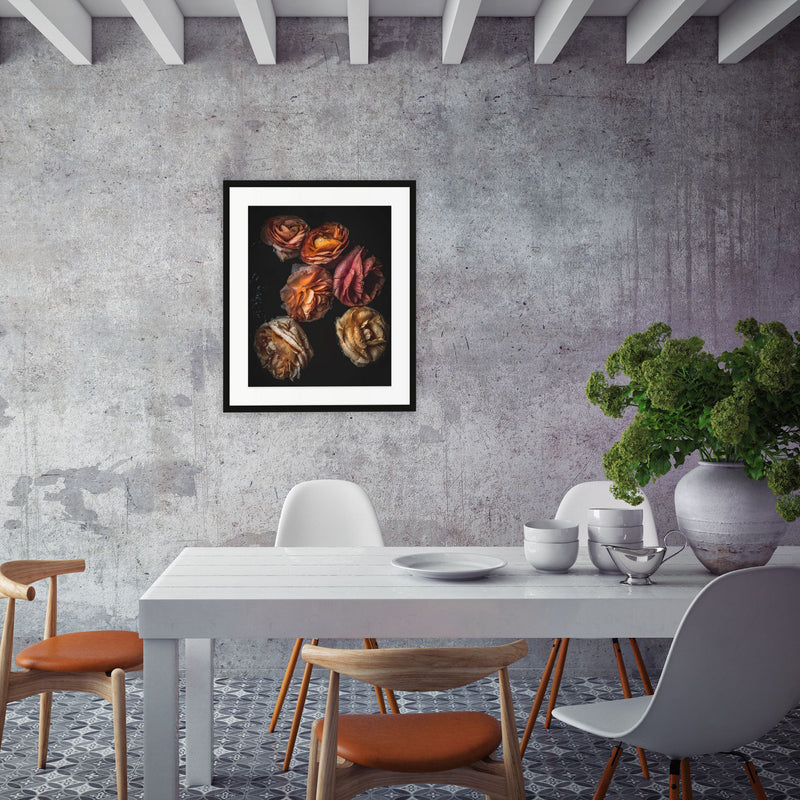 Floral art brings the outdoors inside
With the excitement of the spring season comes a renewed desire to spring clean our homes. Together, the flowers in bloom and the scent of the air around us offers a beautiful display of nature that not only awakens the earth, but our spirit also. Spring is a time for fresh starts and clean slates, therefore it seems only natural that with our roused enthusiasm comes an urge to clean out our abode and bring in the new.
Simple acts such as switching out linens in a bedroom, moving a piece of furniture to a different spot, opening a window to allow the air to permeate a room, or reorganizing a shelf to look tidier and more visually appealing can all enliven our homes and our mindset. 
A favorite way to encourage the same feelings of hope and renewal is through displaying art. Adding artwork to a space that has been deep cleaned and reorganized is a wonderful way to refresh and revitalize the home. Better still,
"the addition of a floral art print that quite literally brings the outdoors inside maintains the feeling of rejuvenation long after the season has turned to summer."
Flower art can stimulate the senses
Floral art is a powerful stimulant of the senses and can have a profound effect on how we feel, especially during spring when the earth around us comes alive once again. 
My art print — Born in Blue was captured to depict the rich, mesmerizing tones of the beloved hyacinth. Beyond appreciating its visual beauty, this flower photograph somehow encourages the viewer to pause and take a deep breath. In doing so the unmistakable fragrance of this classic bloom immediately comes to the forefront of the mind, filling the nose with the clean scent of springtime. 
Another floral art print that rouses both the visual and olfactory senses is Late Spring Morning Dew. The sunrise-hued ranunculus flowers gently kissed with delicate water droplets transport the audience to daybreak, where the aroma of the season is crisp and invigorating. It's a refreshing portrayal of spring that truly makes the viewer feel alive. 
If ranunculus blooms speak to your heart, then my art print Perfectionism would make a lovely addition to your spring-cleaned space. An exploration of the unwillingness to settle for anything less than perfect, this photograph captures the unruly ranunculus in her natural state. The fullness of each flower — bending and curving of its own accord, unexpectedly makes me inhale a little deeper in the hope of being reminded of the glorious fragrance of the season.
For a softer, more perfumed scent that seems to cling to the air, my Vini Fiori images bring to life the sweet incense of lilacs and peonies at their peak. Late spring favorites that smell just as beautiful as they look, these two floral art prints effectively elicit refreshment and renewed energy. 
Finally, for a collection of three floral art prints that depict a more intimate view of the season's quintessential flower — Bravery, Love, and Compassion are a bold yet beautiful statement for a renewed home. Like Late Spring Morning Dew these macro peonies were quenched with water droplets when photographed, as though they were picked soon after a refreshing spring rain. 
Art prints that conjure up springtime
A time of year that enlivens every one of our senses, spring may be fleeting yet she is inextricably special. When capturing the flowers that feature in both my late spring and vini fiori collections, I wanted to harness the cheerful, hopeful emotions of the season. Whether these floral art prints transport you to a garden filled with the year's first blooms — or conjure up that characteristic springtime perfume every time you pause to appreciate them — I hope that you have the same welcomed feeling of transformation as Mother Nature herself when the season of new life awakens this beautiful planet we get to call home.

with love,