Italy inspired still life art prints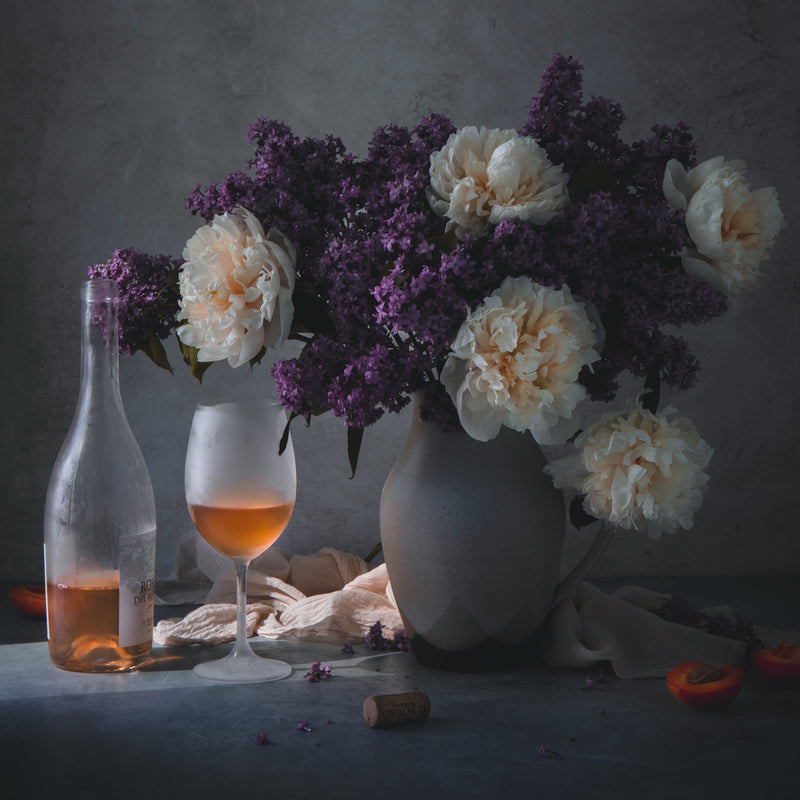 Early summer series of art prints
For the early summer series of art prints I have chosen to focus on lilacs, peonies, and my absolute favorite rosé wine. These bring back memories of my time in Italy and capture two favorite scenes - dawn and dusk.
The month of August was a memorable one for me. As a child I remember the wine harvest season in Europe as a time of celebration, a time to enjoy the last moments of summer. It was my favorite time of the year.
My grandparents would gather all of their friends and neighbours to make wine that would last through the winter. I loved to help pick grapes (eating a whole lot of them in the process) and would play with the curly vines to make rings and necklaces for me and my little sister. If there is one thing I miss most about Europe, it's the abundance of fruits and vegetables and their exquisite taste. The juicy sweetness of a fresh Romanian grape simply cannot be replicated.
I always secure a trip to a winery with each of my travels. In Europe, and specifically in Italy, I've noticed that a short drive off the beaten path nearly always lands you next to a vineyard. As soon as I see one I'm taken back to the "crushing of the grapes" festivities from my youth.

It was no surprise when I wanted to launch my fine art prints that I would make a Serie di Vini e Fiori - a collection of artwork showcasing my love for wines, reminding me of family traditions, and honoring my personal journeys around the world.

The two prints were shot in natural light. What I love so dearly about the color palette in these two art pieces is how the sun works her magic - beaming rays through the window she gives a cooler feel in the morning, and a softer, warmer, almost vintage tone in the evening. 

I'm incredibly excited to announce my seasonal Serie di Vini e Fiori works. They are created in limited quantities and once they are sold out, they will not be reproduced. Each print will arrive at your doorstep with a Certificate of Authenticity - signed, dated, and numbered. I have chosen a beautiful fine art paper for this artwork, and the print is available in two sizes.
I hope the Serie di Vini e Fiori connects you to a special place, time, or person in your own memory. They'll be a great addition to your space and I know you'll fall in love with them as much as I have.
with love,