The Sensory Experience of Joy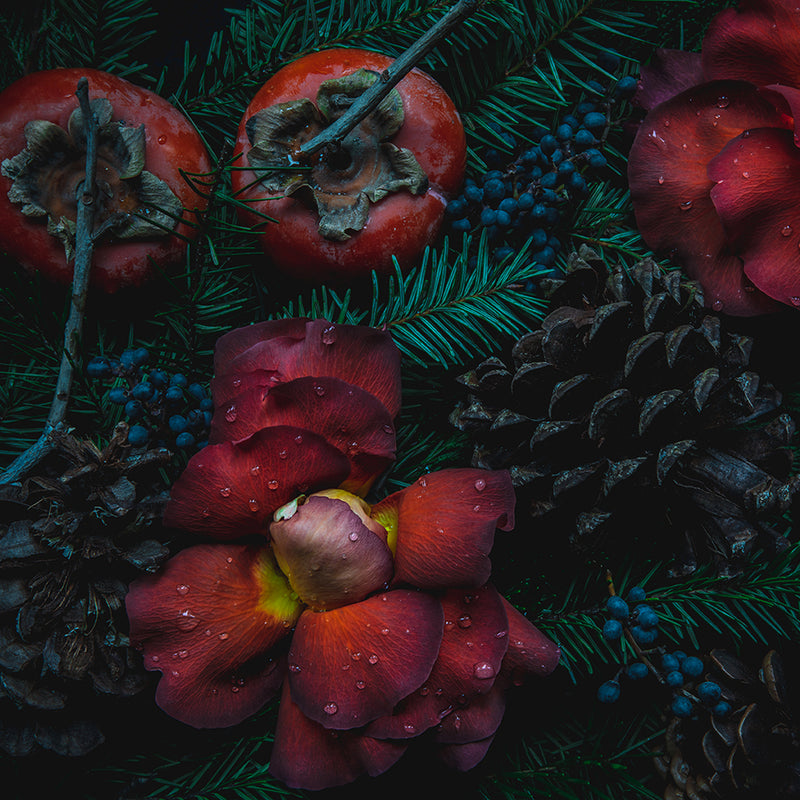 The Aroma of Memory
This season is filled with extraordinary memories for me. The aromas of pine, roasting chestnuts, cookies, hot chocolate, marzipan, vanilla, nutmeg, and of course cinnamon bring me back to the child within me. The little girl, who was and remains amazed by the flickering of lights, who loved to twirl in the snow until my nose and cheeks were pink as rosebuds. When I come back to my center and look to see why this time of year bewitches me, I smile and know that it is in the nourishment of our child selves that the magic is woven.

Breathe
A particular fine art print comes to mind this holiday season. The burgundy ranunculus touched by dew drops. Her petals slowly opening to the world. As I photographed this bloom, I began to think of the gift of breath. Our lungs contract and expand as our hearts beat. Fueling the life within us to stay burning for another day. 

This season can be challenging for many, and even the most joyful moments can be laced with stress to do more, be more, say more. This moment with the ranunculus is one to come back to. Reminding you that your worth is not determined by what you do; your worth is intrinsic. A whisper into the way nature moves, slow, steady, traveling through the seasons. 
Winter
When we visit scent, and the colors, sounds, feelings of winter, all of them are calling us to rest. The enduring Pine tree is rich in folklore, a sacred tree for many people. Representing wisdom, peace, fertility, and the incredible nature of winter. Nutmeg is often used to help soothe the nervous system; citrus, a balm for the spirit, inspiring joy with every inhale. I have always felt that when we tap into the seasons, we begin to discover the rhythm of our bodies. 
I let winter be a place for slow dancing with the love of my life in a warm, candlelit room. I allow it to be a time of planting seeds that will rest and root before they bloom in Spring. I celebrate the enthusiasm of little me that wants to burst through. I entirely permit myself to let go of deadlines and sit and stand in awe of the way snowflakes form, the laughter of children, the sound of fire while I bake my favorite cookies. 

"There is joy in the stillness of this season. Even when it moved at a rapid pace, I suggest standing back, breathing in deeply, and allowing yourself to witness the season from the sidelines. Taking in the art that hands on your walls, or the art that nature provides around every unsuspecting corner. Taking mental photographs of every flower that catches your eye, memorizing the way they either rest or endure through winter. The more you slow down and truly see, the more everything begins to become a gift." 
Wish
My wish for you this season is that you are surrounded by love, that you find time for rest and rejuvenation, and that you get to frolic in the majesty of this holiday season. 
Wrapping you all in an abundance of love. See you next year where we will get lost in more photography, fine art, and the wondrous world of flowers. 
With love,